Our MGallery Fontainebleau hotel has been committed to improvement for several years and to do so, does not hesitate to make concrete commitments, to shake up its habits and to surround itself with competent professionals in the field. 
We are thus supported by the Betterfly TourismAtypio Hotels Resorts' historical partner, co-investor and manager of our establishment, to determine our environmental label/impact (based on one night in the hotel with breakfast) and to be able to work each year to limit it. 
For the same reason, "together we are stronger to meet environmental challenges than alone", our hotel joined the Better Collective via Atypio Hotels Resorts. 
Discover below our actions already carried out and our "Charte Mieux" while waiting to share with you our future projects and action plans.
# ANTI-WASTE :preventive maintenance, energy saving programme, seasonal restaurant menu, anti-waste partner Phenix, limitation of paper consumption via a vast project to digitalise media, programme to reuse sheets and towels (stays > 1 night), general switch in the room, low consumption lighting when renewing, information on accessibility of destinations by public transport, transport service (to come via a partner independent of our hotel)
# ANTIPLASTIC : Single-use plastic cups and individual toiletries were replaced by eco-pumps and glass/cardboard cups in the rooms, straws and plastic stirrers were replaced with paste/cardboard materials, the plastic water bottle offered in the rooms was replaced by a Tetra pack made in France/glass, and by water fountains and glass bottles in the restaurant/event areas.
# WASTE - RECYCLING : collection ofs wastewater, waste sorting, waste recycling: coffee capsules, glass, yellow, brown; renovation policy based on internet/external recycling of furniture/accessories, restoration/modernisation of old hotel/chinned objects, search for sustainability, and on the recovery of historical markers in the purchasing policy (marble, wood, ...)
# BIODIVERSITY : use eco-labelled cleaning products, favour organic products in the shop: 100% of jams will be organic from March 2022, 100% of macerated oils are organic, 80% of the aperitif range is organic, ban endangered fish species
# SOCIETAL : favouring made in France and local suppliers: Aix&terra, La Miellerie du Gâtinais, Alain Milliat fruit juice, Dvine, Brasserie "Font & Bleau", maintenance partners for green spaces and cleaning companies, sharing of best practices between member hotels, meeting different dietary needs (vegetarian, vegan)
made in France, local suppliers are favoured: local brewer "Font & Bleau", Atypio wine selection, local jams and organic jams Aix&terra, cheeses with 80% French via Maison Tourette, labelled products (AOP, AOC, red label, MSC), Sothys, Saint Jean, Zuber, Collinet, Maison de la Maille, Balsan, Roset, Sothys, Trudor, ... maintenance partners for green spaces, sharing of best practices between member hotels, meeting different dietary needs (vegetarian, "Inspired by Her")
Restore - Chintz - Modernise
The Aigle Noir Hotel is an inspiring place, inspired by its illustrious guests, its experience and its long history. 
What a pleasure it was to hunt, to find in the cellars among the treasures of more than 300 years of history, objects to be restored, modernised for some, to be framed, dusted for others, to be dramatised like this wall of "broken" plates in our restaurant A l'Epicerie, symbolising an anecdote to be told to you, with pleasure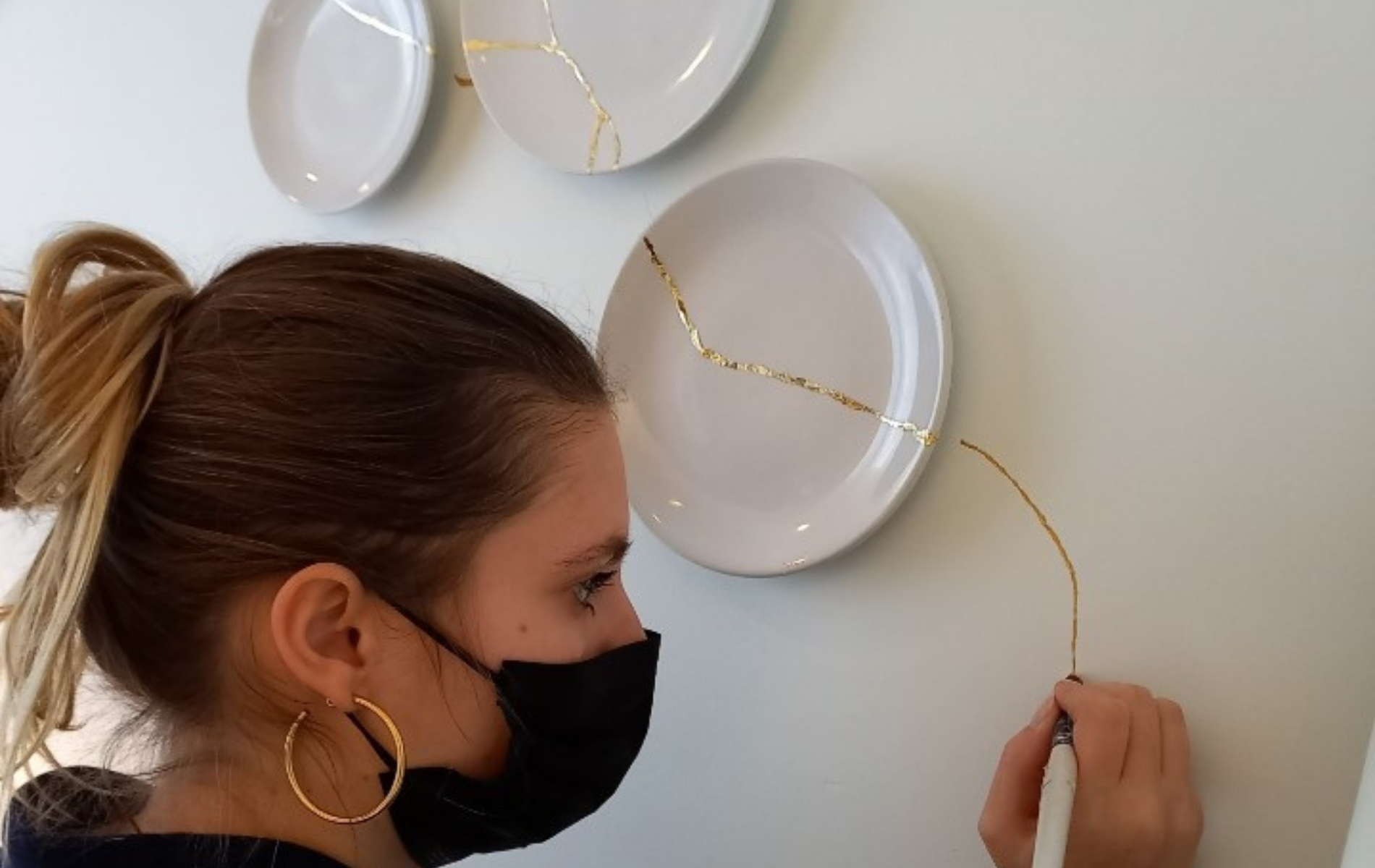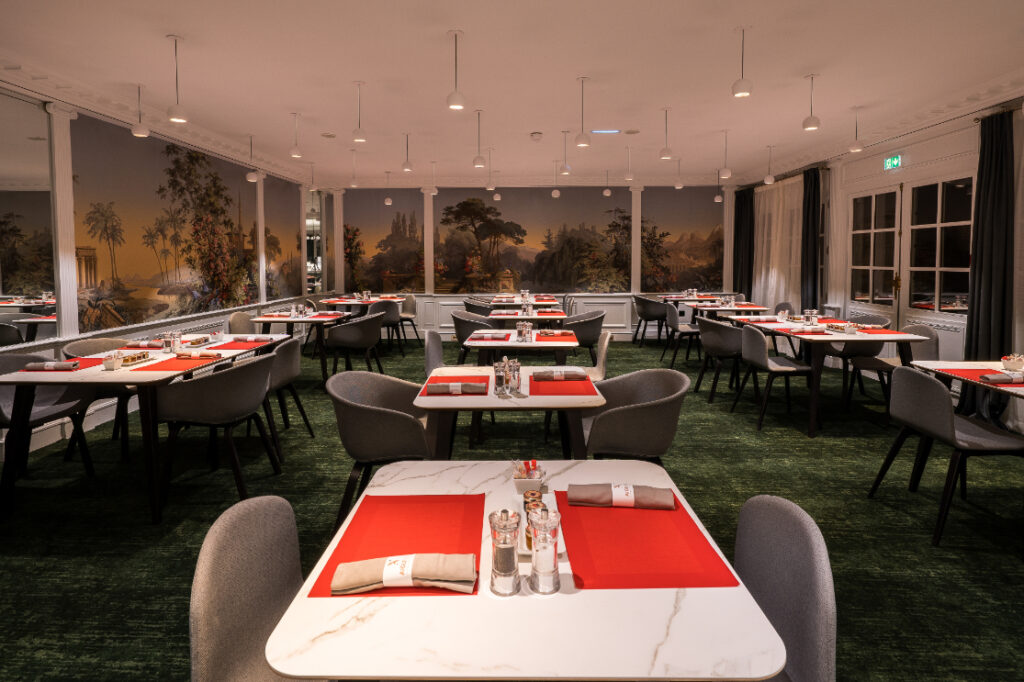 We have had the pleasure of working with various French companies, including the craftsman Zuber, over the years.
This factory, founded in 1790, opened the Wallpaper Museum in 1983 and continues its unique, traditional know-how in its workshops, which has attracted the entire world. Today, the ZUBER Manufacture still uses for a large part of its production all the traditional hand techniques used since its creation, and mainly woodblock printing carved on hand-brushed backgrounds. A true "living heritage".
Discover and enjoy this natural handcrafted product in our shop At the Epicerie.
Aix&terra Manufacture creates and reinvents recipes from the best Provencal know-how. Fruits, vegetables and truffles grown in Provence, without colouring agents or preservatives and organic: Lemon of Menton, Figs PDO of Provence, Melon of Cavaillon, Garlic IGP Organic of the Drôme, Olive Tanche of Nyons... From March 2022, the range of jams will be 100% ORGANIC!
OTHER KEY ORGANIC FIGURES FROM OUR SHOP :