A taste of holiday at 50 minutes from Paris
Escape to the gates of our hotel in Fontainebleau
Fontainebleau... a name that makes you dream and invites you to travel with its forest located at the gates of the capital, 60 km south of Paris, between Brie and Gâtinais. The ancient forest of Bière has been known since the 17th century as the Forest of Fontainebleau. It is the largest forest area in the Ile-de-France region.
The Forest of Fontainebleau, 22,000 hectares of preserved nature, owes its originality to the presence of sand, platiers and sandstone rocky chaos, witnesses of its geological history. They have created the picturesque landscapes that make it so special and that have inspired artists.
It is, of course, the cradle of many outdoor leisure activities that delight young and old alike.
Fontainebleau is also a lively town with 3 theatres and 5 cinemas, offering a varied entertainment programme. Nearly 300 retailers open their doors to you and offer you quality products. The many restaurants, bars and breweries will give you the warmest welcome.
Photo credit: fontainebleau tourisme chlorofilm
Fontainebleau, capital of the horse
Fontainebleau is an equestrian town with a mounted brigade and the patron town of the Republican Guard. It is deeply attached to its age-old tradition and hosts major national and international events throughout the year.
It has unique and prestigious equestrian assets such as the Grand Parquet, a space reserved for dressage and equestrian competitions, the Hippodrome de la Solle in a green setting, one of the oldest in France, and the École Militaire Equestre in the former stables of the castle, which trains riders and military horses for training and competition.
Horse riding clubs offer rides in the forest for the whole family to enjoy.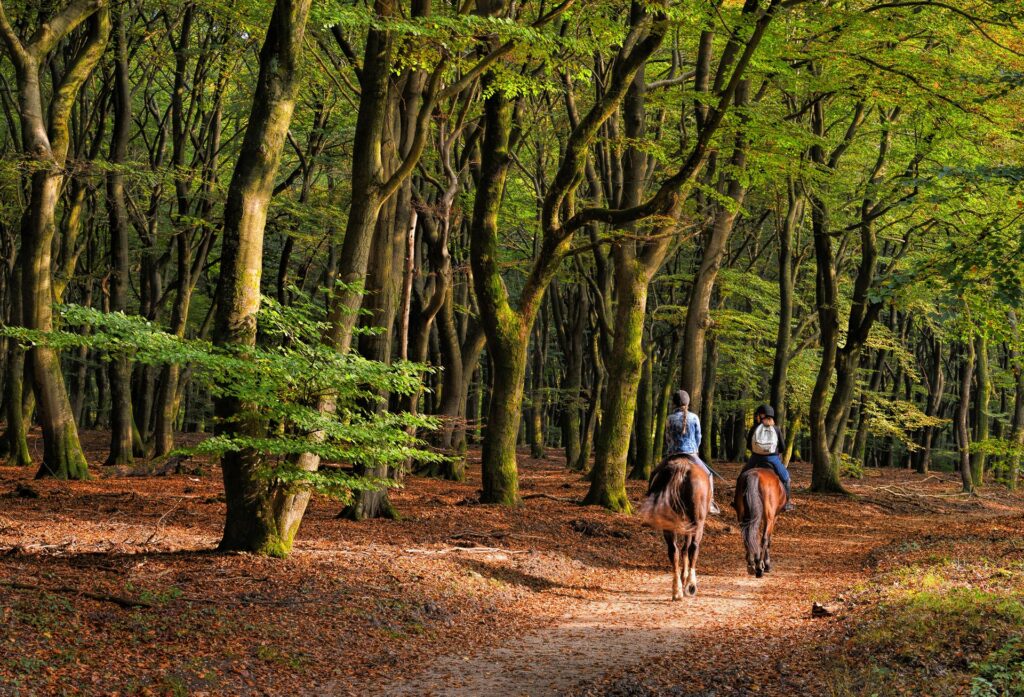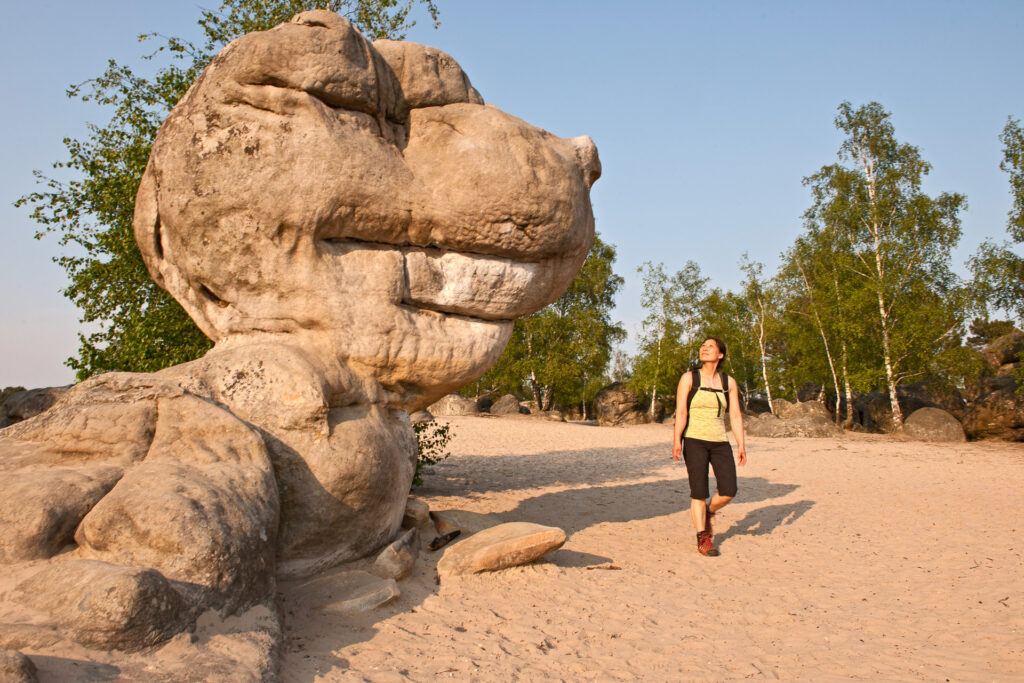 On foot, by bike, with sled dogs...
The Fontainebleau forest is a real paradise for outdoor activities. You are here in an exceptional setting to discover and indulge in numerous leisure activities in harmony with nature, including hiking and cycling.
The very first marked footpaths in the world were created here in 1842. Today, the forest of Fontainebleau offers its visitors 500 km of marked trails. Numerous circuits are also available for cyclists (bike hire in Fontainebleau not far from the hotel for rides in the forest or along the Seine).
Alone or with others, you can enjoy a ride in a go-kart pulled by sled dogs driven by a musher... an unusual adventure near Paris!
One of the most beautiful sites in France
The Fontainebleau forest with its characteristic sandstone boulders is an internationally known place for rock climbing. This discipline is practised on low rocks that do not usually require a rope for safety.
Every sunny weekend, but also during the week, hundreds of strange figures invade the famous rocky chaos of the forest.
Many of the routes, marked out in white, are accessible to children, designed for them and adapted to their morphology. Enough to inspire a great climber's destiny.
Introductory sessions for young and old are organised on Sunday mornings in season.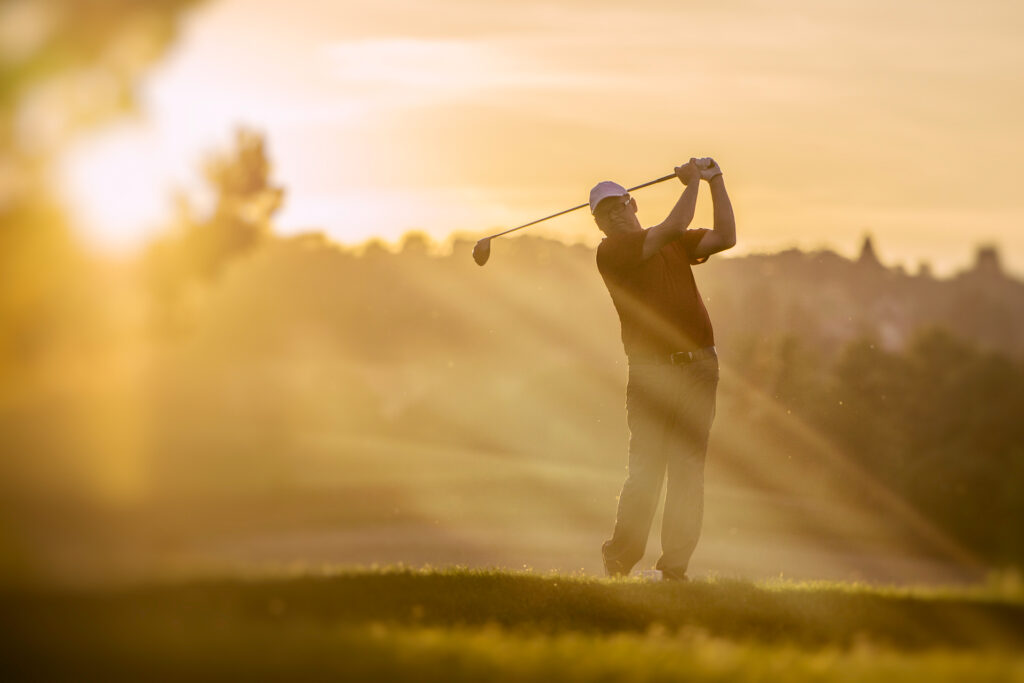 Prestigious golf courses nearby
Within a 15 km radius of the hotel, 3 prestigious golf courses invite you to perfect your swing.
The Fontainebleau Golf Course, 1.7 km from the Aigle Noir, is recognised as one of the most beautiful courses in France, surrounded by rocks, heather, broom and bunkers (18 holes - par 72 - length 6030 m). It is ranked 5th in continental Europe by Golf World magazine.
10 km away, the Golf de Bois-le-Roi, a 9-hole course, is built on 73 hectares including 8 hectares of water within the leisure island of Bois-le-Roi. Its main course, the "Pic Vert" is a par 34 of 2313 metres.
15 km away, the Château de Cély UGOLF, on the edge of the Fontainebleau forest, covers 55 hectares. In addition to the 18-hole course, it has a practice area. Practice area with about ten stations, covered.
Come and share a unique moment in our bar, Le Montijo, and discover our emblematic cocktails and other sweet treats. Our barman will be delighted to share his passion for mixology with you.
We look forward to seeing you
L' Aigle Noir Hotel - A L'Epicerie,
Atypio Hotels Resorts Collection